Barbed Wire
Product Information:
Barbed Wire
Material
High quality low carbon steel wire, iron wire, etc.
Category
1.Hot dipped galvanized

2.Electric galvanized
3.PVC coated

Weving and Characteristic
Twist weaving,firm and beautiful,corrosion-resisting and oxidation-resisting.
Using
Used as barrier for lawn, railways, expressways,etc
Specification
2 strands,4 points.Barbs' distance 3-6 inches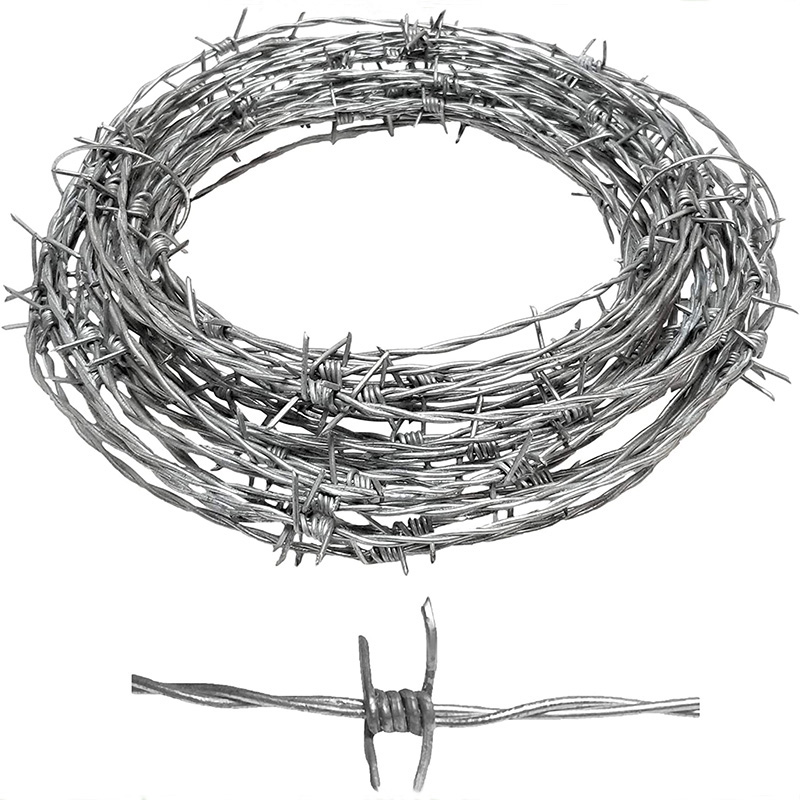 Parameter:
Gauge of
Approximate Length per Kilo in Meter
Strand and Barb in B.W.G.
Barbs Spacing 3″
Barbs Spacing 4″
Barbs Spacing 5″
Barbs Spacing 6″
12×12
6.0617
6.759
7.27
7.6376
12×14
7.3335
7.9051
8.3015
8.5741
12-1/2×12-1/2
6.9223
7.719
8.3022
8.7221
12-1/2×14
8.1096
8.814
9.2242
9.562
13×13
7.9808
8.899
9.5721
10.0553
13×14
8.8448
9.6899
10.2923
10.7146
13-1/2×14
9.6079
10.6134
11.4705
11.8553
14×14
10.4569
11.659
12.5423
13.1752
14-1/2×14-1/2
11.9875
13.3671
14.3781
15.1034
15×15
13.8927
15.4942
16.6666
17.507
15-1/2×15-1/2
15.3491
17.1144
18.406
19.3386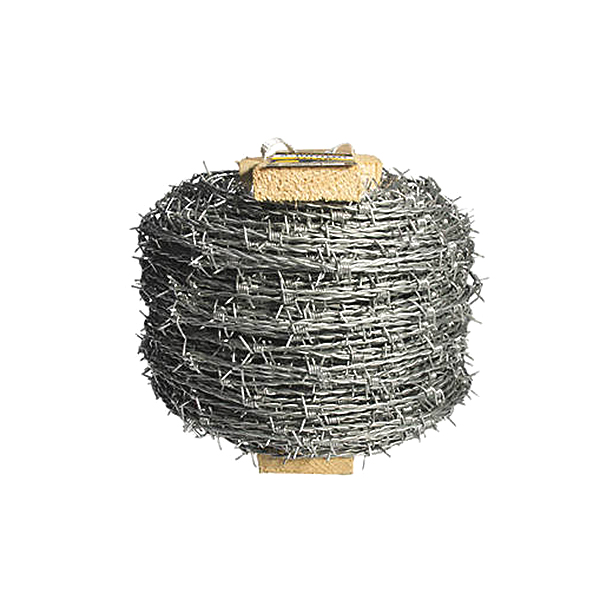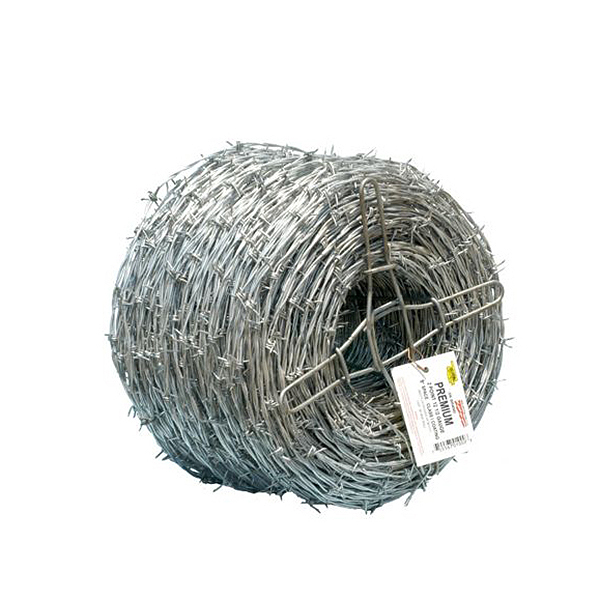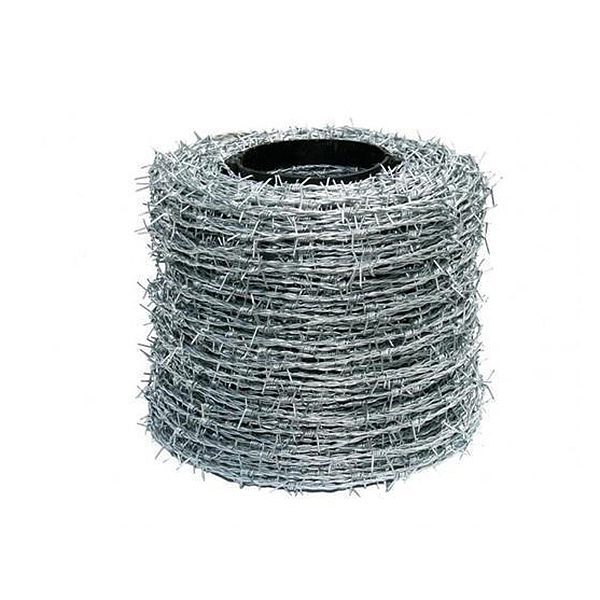 Shipping information:
Model:195
MOQ:10tons
Payment:T/T, L/C
Delivery time:30days
Start Port:XINGANG,TIANJIN,CHINA
Production QTY:5000 ton/month
| | | | |
| --- | --- | --- | --- |
| Application | Construction | Surface | Electro or hot dipped Galvanized |
| Packing | Coil or Spools | Coil weight | 1kg-1000kgs/coil |
| Tensile Strength | 350-550Mpa | BarbedDistance | 7.5-15cm |
Strand structure of barbed wire
barbed wire can be divided into single strand barbed wire and double strand barbed wire.
Single strand barbed wire.It has the simplest structure, which contains single strand and barbs. Compared with the double strand barbed wires, it is much more economical and lighter weight. It is suitable for the common applications. But it is easy to destroy and cut, so it is not suitable for heavy duty applications.
Double strand barbed wire.It is formed with two strand wires (line wires). The barbs are twisted between of the two wires and fastened onto the line wire. The double strand barbed wire can supply higher tensile strength to prevent cutting or destroying. It is suitable for the heavy duty applications, such as prisons, military sites and other places.
Common Gauge of Strand and Barb: 
1.8X1.8mm / 2.0X2.0mm / 2.2X2.0mm / 2.2X2.2mm / 2.5X2.0mm / 2.5X2.2mm / 2.6X2.2mm / 2.7X2.2mm / 2.8X2.2mm /
3.0X2.0mm.
Barb Spacing: 3"-6′.
Barbed Wire Roll Length:200m/250m/400m/500m/600m.
Barbs, Points, Strands and Barb Spacing: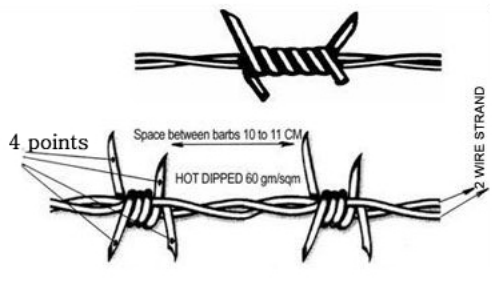 Finishes include Electro-galvanized; Hot dipped galvanized; and plastic coating.
Zinc Coating Variety:
Material: Iron wire Q195
Zinc coating weight: 60g per sm/240g per sm/12g per sm
Applied to Barbed Wire Ranges:
Strand wire diameter:1.5mm-3mm
Barbed wire diameter:1.5mm-3mm
Barbed space:100mm-140mm
Coil weight: 5kg-100kg
Twisting Styles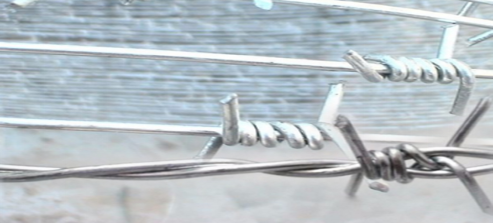 Single or Double Wire Strand Twisted in Straight and Reverse Twisting, or Traditional Twisting.
Concertina Barbed Wire with Regular Barb Wire, No Razor Wire

Border Fencing Concertina Barbed-wire coils – regular barbed wire, single strand, for England.
Package of barbed wire:
The barbed wire is commonly supplied in rolls. And there are so many barbs on the roll surface. For convenient loading, handling and transporting, we are equipped different handles for your choice. Additional, it is very safe for manual operation and will not hurt people when using it.
* Steel wire roller and steel wire handle.
* Steel wire roller and plastic handle.
* Steel wire roller and wooden handle.
* Wooden roller and rope handle.
Inside waterproof paper ,outside woven bag for barbed wire,Or according to your requirements.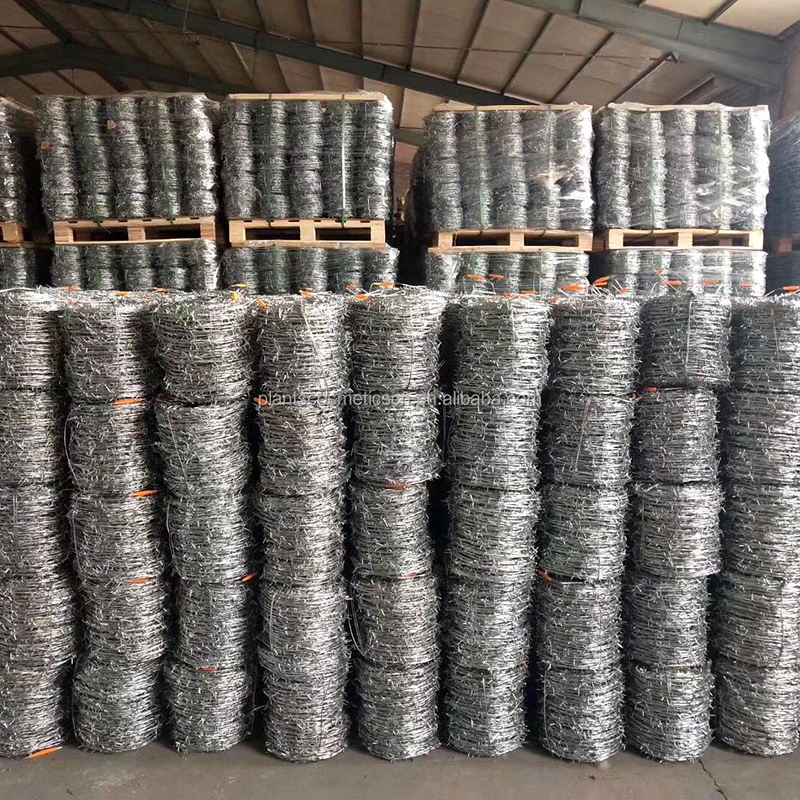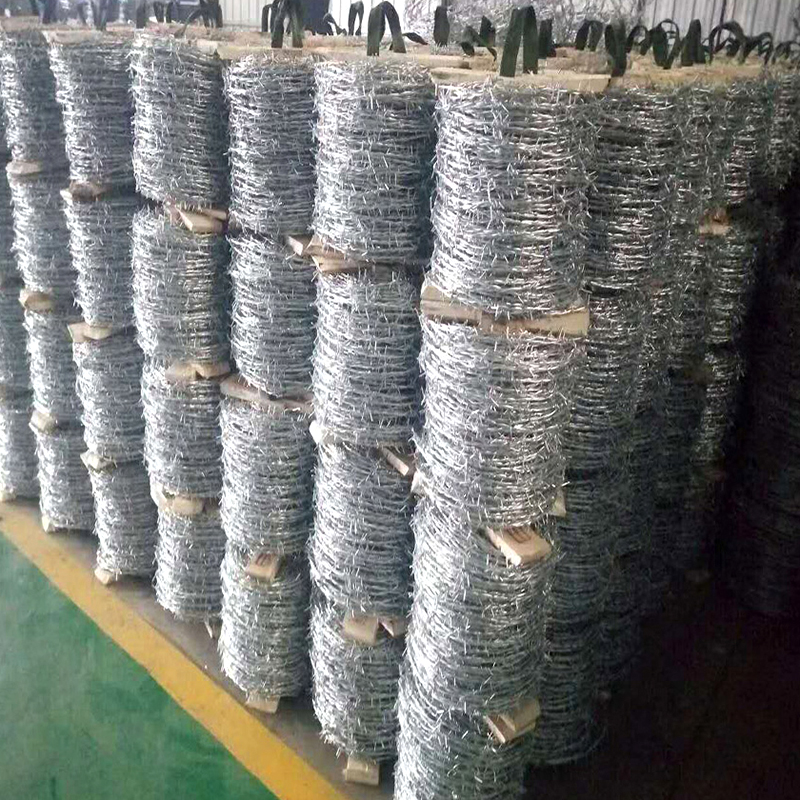 Application introduction:
It is used in protection of grass boundary, railway, Highway, national defense, airport, orchard, fence or guard for plain, military, jail, government, bank, residence.etc.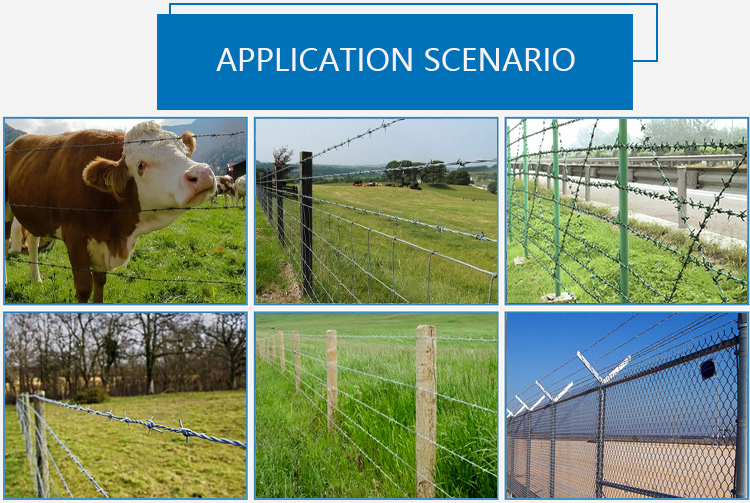 If you're searching for an efficient yet affordable solution to safeguard your property and assets then look no further than our premium quality barbed wire. Engineered with durability as a top priority our single and double strand options deliver optimal security while catering to different specific needs.
The lighter weight single stranded version features simple construction comprising one strand with added barbs that are easy to install or maintain while being cost effective; however its susceptible to cutting or destruction when subjected to heavy usage conditions.
Whereas the double stranded model offers enhanced toughness due to its two cable design making it ideal for ultra secure environments including prisons or military installations. When it comes to choosing between single or double strand barbed wire you can trust us for delivering high quality products that ensure your security needs are met flawlessly. Made with superior materials both variants provide resistance against challenging weather conditions while maintaining their structural integrity.
At our company we believe in offering products that not only meet but exceed industry standards. From selecting premium raw materials up until production and quality control processes – we go above and beyond in providing uncompromised excellence.
Before reaching customers' hands we put all kinds of tests through rigorous testing criteria so they can entirely rely on them for their protection needs. Installing the product is effortless thanks to an uncomplicated design structure along with convenient packaging.
Our diverse range of lengths and gauges allows us to cater specifically as per customer requirements without any wastage be it a meter or kilometres long requirement. Embrace reliability today by choosing our product to secure your property and assets.
As a university educated individual you may find it appealing to receive further information regarding our product offerings and range of services. We invite you to contact us at your earliest convenience to learn more.
---
Previous:
Anti Climb Wall Spikes
Next:
Chain Link Fence
---