Razor Wire
Product information:
Concertina Razor Wire is widely used for construction of high security fencing projects in military and national defence. We export directly and supply Razor Wire for Government tenders and constractors in various countries ( Kuwait, Jordan, and other countries). Concertina Wire can be divided into Single Concertina and Crossed Concertina Wire.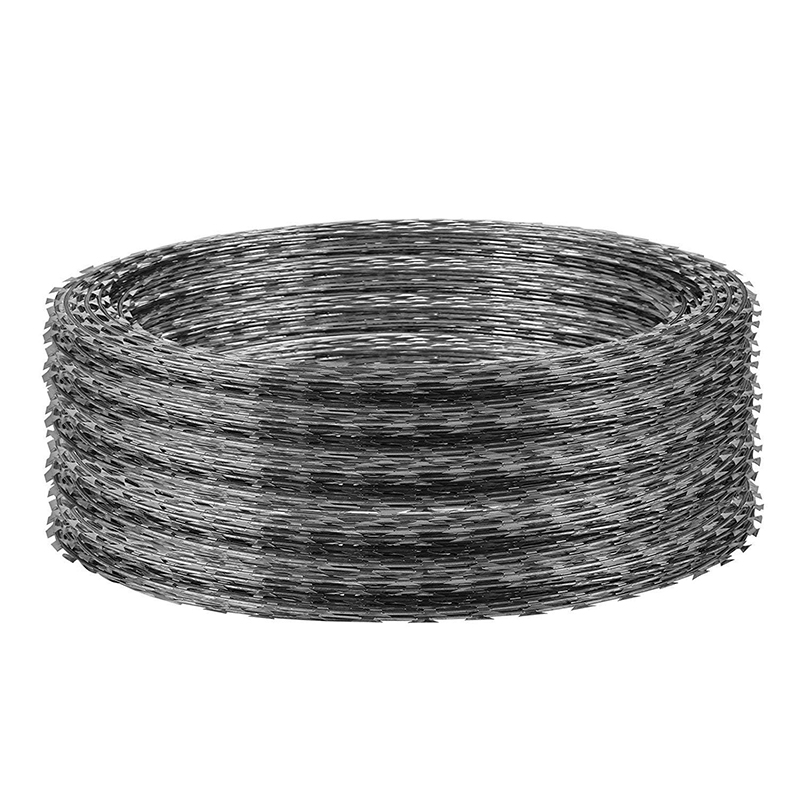 Single Concertina or Crossed?
Concertina Cross Razor Wire Installation: Two pieces of Stainless Steel Razor Wire or Zinc-coated are bound together by clips to make it stronger. The spiral intersecting razor wire presents an intersecting shape after opening with beautiful feature and practicality.
Concertina Single Coiling Wire is installed without clips; it runs in natural loops on walls or fencings. Single razor wire ribbon is less frightening and can be easily installed.
Single Coil Razor Wire normallly has 33 to 53 loops, in standard coil length 8m, 10m or 13m. Crossed Concertina Razor Wire has loop outside diameter ranging from 450mm to 960mm; number of loops can be 52 to 112.
Single coil barbed wire or crossed type razor wire meet different level of security demand. Crossed Concertina Wire brings more frightening effect compared with single coils either used individually or together with mesh fencing as topping barriers.
Razor Wire with Varied Blade Sizes:

Comparing of Blades: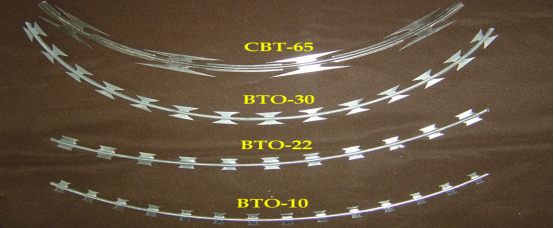 Galvanized Steel Concertina Wire Loops, 24" Diameter, 33 Loops
For Jordanian and Regional markets
Concertina Wire ( Loops )
Single wire or cross type.

Model: RAZOR WIRE 24HEL 33L GA/GA STD, Barb Cross Sectional Width: 2.4 Inches Nominal
Galvanized Concertina Wire Loops, supplied as per following details:
Wire Cross Sectional Width: 1.000 Inches Nominal
Each unit package: 11 LB
Single Wire Cross-Sectional Shape: Round
Barb Cross-Sectional Shape: Rectangular
Barb Point Quality: 4
Center to Center Distance between Barbs: 4.0 Inches Norminal
Feature Provided: 24" Diameter, 33 Loops, Galvanized/Galvanized
Material: Steel, Galvanised
CONCERTINA RAZOR WIRE BTO – 22 or BTO – 18 CROSS TYPE
Main Market: Netherland

Model: BTO – 22 Concertina Razor Wire, Loop DIA 900mm, 56 Spirals, Supplied in Full 20FT Container for Netherland, Material: Hot Dipped Galvanized
Supplied as per following details:
Blade thickness: 0.5 mm
Wire Dia.: 2.5 mm
Barb Length: 22-24 mm
Barb Width: 15 mm
Barb Spacing: 34 mm
Weight per coil: BTO – 22 / 12 kgs; BTO – 18 / 9 kgs
Clips Per Coil: 5 PCS
Spiral Turns: 56
INSTALLED LENGTH: 900MM = 15 Meter – 155 Mtr Straight Unreeled
Packed on Plastic or wooden fumigated pallets 50 coils each pallet
Concertina Razor Wire Security Fencing Projects

Hot-Dip Galvanized BTO – 22 Razor Wire Fencing System with Green Powder Coated Y Post and 3D Steel Mesh Welded Fabrics
Fencing system supplied per following details:
Support Type: Y Post
Concertina 38″ in diameter are fabricated from 0.020″ thick, galvanized steel strip.
Strip is clinched around a galvanized steel core wire.
Each roll consists of 56 coil loops with pairs of coil loops alternately clipped together at five locations around the circumference.
Each coil extends to 50′ when deployed at 21″ coil spacing.
Mesh Style: Electro Welded Galvanized Wire Mesh.
Security Level: High Security.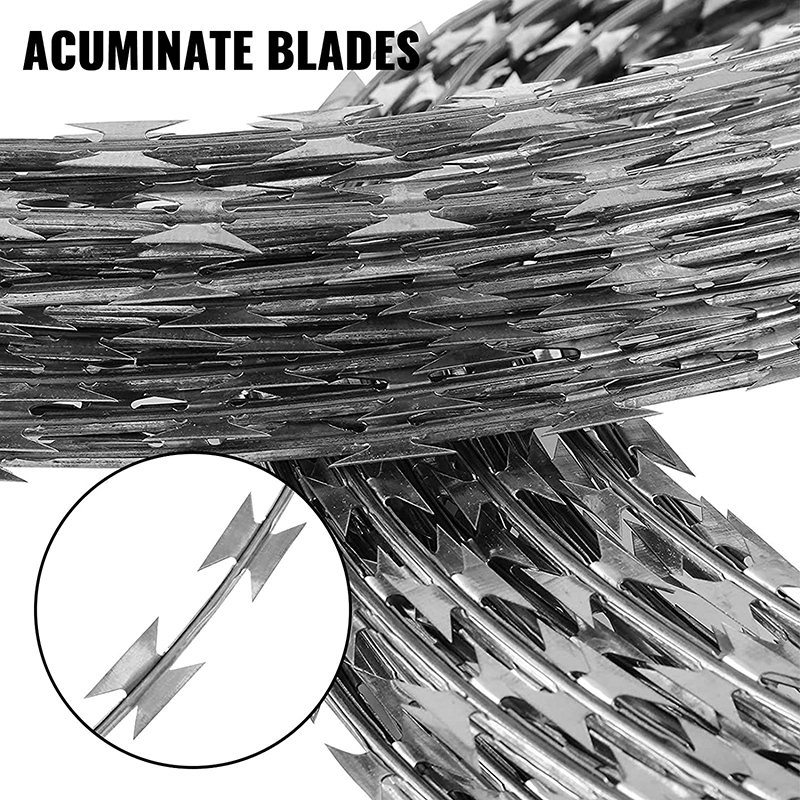 Fencing Razor Blades Specification: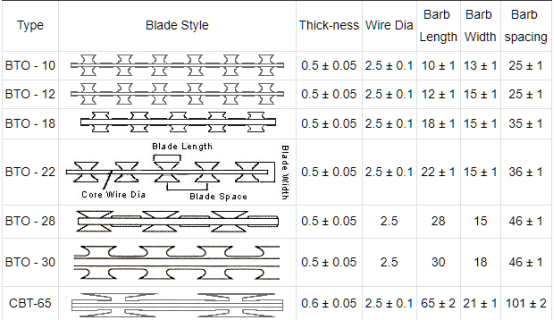 Barbed Tape Concertina (BTC);Barbed Tape Obstacle (BTO)
Standard materials are either galvanized or stainless steel.
Standard packages products are shown in the tables above, special specifications available on request.
Concertina Wire Coils Specification:
| | | | | |
| --- | --- | --- | --- | --- |
| Outside Diameter | No. of Loops | Standard Length per Coil | Type | Notes |
| 450mm | 33 | 8M | CBT-65 | Single coil |
| 500mm | 41 | 10M | CBT-65 | Single coil |
| 700mm | 41 | 10M | CBT-65 | Single coil |
| 960mm | 53 | 13M | CBT-65 | Single coil |
| 500mm | 102 | 16M | BTO – 10.15.22 | Cross type |
| 600mm | 86 | 14M | BTO – 10.15.22 | Cross type |
| 700mm | 72 | 12M | BTO – 10.15.22 | Cross type |
| 800mm | 64 | 10M | BTO – 10.15.22 | Cross type |
| 960mm | 52 | 9M | BTO – 10.15.22 | Cross type |
Anti Climbing Razor Wire Fencing Installation Tips
The installation of concertina wire fences requires special skills and equipment, and, to prevent accidents and to get a good-quality, reliable and durable fencing, it should be carried out only by specially-trained professionals.
To get the perimeter security fencing properly installed, several factors need to be taken into consideration particularly:
Holding strength of the concertina fence;
Correct choice of brackets and anchors;
Proper positioning of the construction to preserve the springing properties of the concertina wire loops.
Materials Applied: 
Hot Dipped Galvanized;Painted Color Galv; P.V.C. or P.E Coated; Stainless Steel.
Razor Blades: Stright line or spiral. BTO – 10, BTO – 12, BT0-18, BTO – 22, BTO – 28, BTO – 30, BTO – 65.
Protection Level: High Security.
Shipping information:
Model:Q195,
MOQ:10tons
Payment:T/T, L/C
Delivery time:30days
Start Port:XINGANG,TIANJIN,CHINA
Production QTY:5000 ton/month
Application scenarios: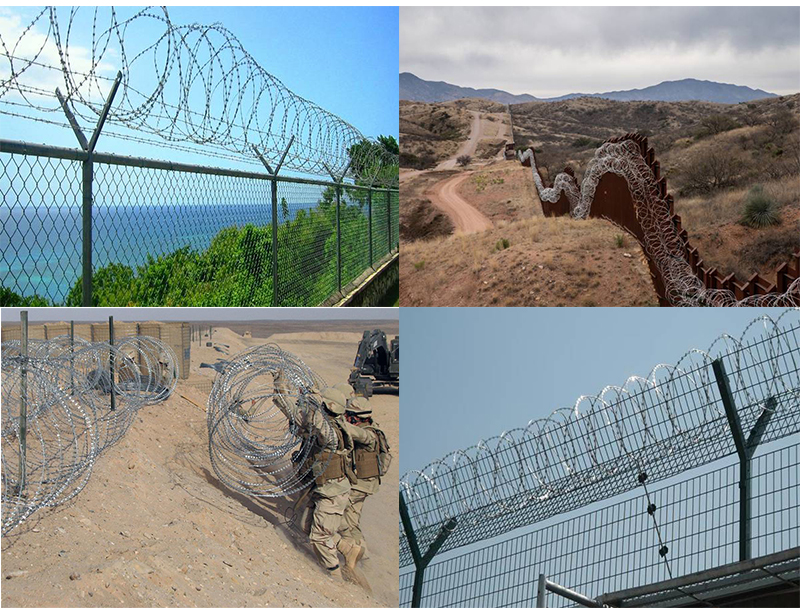 We are proud to present our high security fencing system featuring Y Post support and electro welded galvanized wire mesh designed with safety in mind. We understand the need for unparalleled protection against unwanted intruders on your property, which is why we created this innovative fencing system.
Our fencing system relies on the sturdy foundation provided by the Y Post support type ensuring a stable base in all weather conditions. The unique concertina design further enhances security by utilizing 38″ diameter coils fabricated from galvanized steel strip clinched around a core wire to deliver superior strength and durability. With each roll containing 56 coil loops paired together at five locations throughout the circumference extending up to 50′ at a spacing of 21″ this design ensures enough coverage for any sized property. Finally our mesh style comprising electro welded galvanized wire mesh delivers exceptional resistance against cutting or tampering by intruders making it an unbeatable option for securing your property.
Our high security fencing system boasts an impressive feature- razor wire- which is widely used by security organizations and military installations worldwide as an additional layer of defense against potential intruders. With its sharp edges this wire provides a powerful deterrent that makes stealing or breaking into properties incredibly difficult. Our fencing system is suitable for all types of properties from commercial buildings to residential homes since it offers maximum protection against theft, vandalism or intrusion attempts.
The high quality of materials we use combined with superior manufacturing processes ensure that our products are durable and offer unbeatable shielding capability. Act now- contact us today to learn more about our high security fencing system and how it can help guard your property! Our team of experts is on standby ready to assist you in choosing the best solution tailored specifically for your needs. Looking to bolster your propertys security?
Embrace a superior fence system that promises to keep intruders out and your premises safe. Our high security fencing system ticks all the right boxes delivering an optimal level of protection. Opt for our solution today and enjoy peace of mind!
---
Previous:
Pvc Coated Wire Mesh
Next:
Welded Wire Mesh
---