Dog Cage
Factory wholesale large metal multi functional dog cage kennel outdoor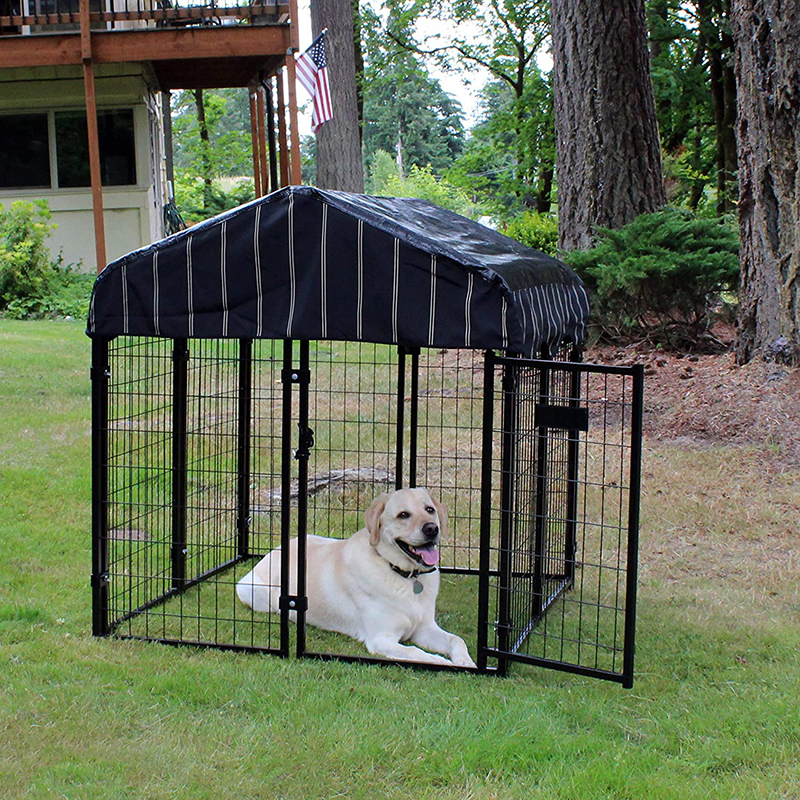 About the dog cage:
* SAFE FOR DOGS – Our welded wire kennel offers safe protection for dogs of all sizes. The heavy metaled wired grating is stable so dogs can't push or kick the kennel over. With smooth welding, edges are seamless and won't hurt or injury you or your dog
* PAINLESS SETUP – Receive our kennel with pre-assembled standardized parts for an easy and pain-free setup. Effortlessly connect the pieces with tightening clamps, absolutely no tools needed. If disassembly is needed, simply reverse the steps
* OUTDOOR RELAXATION – Don't keep your dog cooped up indoors all day and allow him or her to relax outdoors with fresh air as you
run your errands. Shed yourself of fear that your dog will get out the yard as our kennel will keep him or her contained while providing enough space for comfort
* he kennel is raised 1.5 inches above the ground to ensure clean-up is easy and hassle-free. Quickly sweep up spilled dog food,hose off urine, or power wash flooring to prevent dirt build up. Keep a clean, safe space for your furry companion
* PROTECT YOUR PAL: With a waterproof tarp that drapes over the top of the kennel, your furry friend will be protected from rain,snow and sun. Use the included bungee balls to tighten the cover, ensuring your pet's safety and comfort.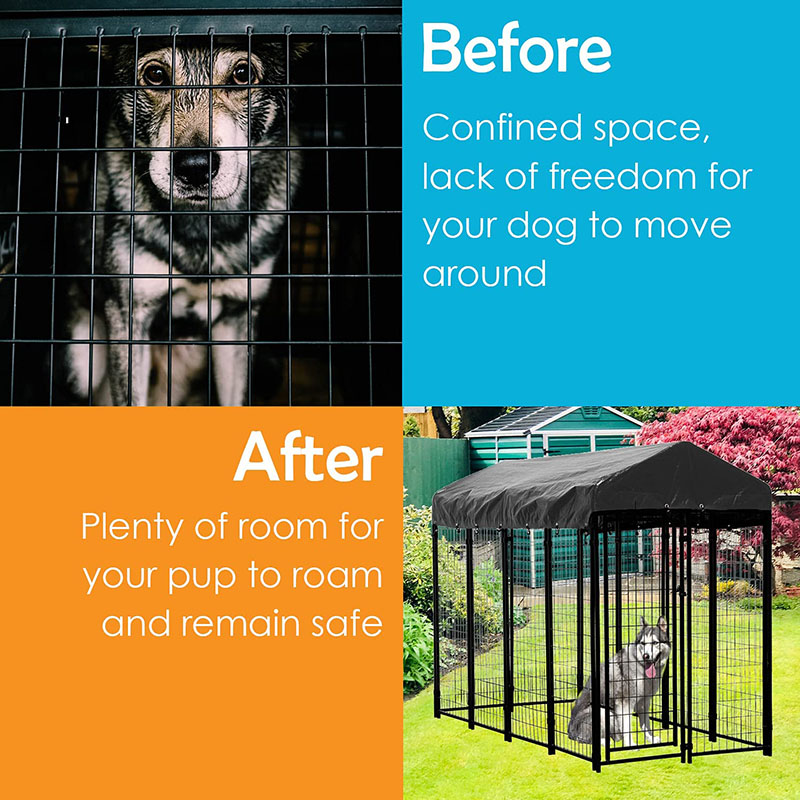 DOG CAGE /PET KENNEL 
SIZE 
1828*1219*2438MM

1828*1219*1828MM

1828*1219*1219MM

WEIGHT
35KG-45KG
ACCESSORIES
Rainproof Awning
COLOR
Black
DELIVERY TIME 
1-2 weeks after your payment
ADVANTAGE
1. Material: thick metal material, environmental protection, no rust, strong and durable.
2. Style: large space, can be assembled, with canopy, modular design.
3. Advantages: easy to clean, can protect pets from sun and rain.
4. Scope of application: Suitable for all kinds of large pets.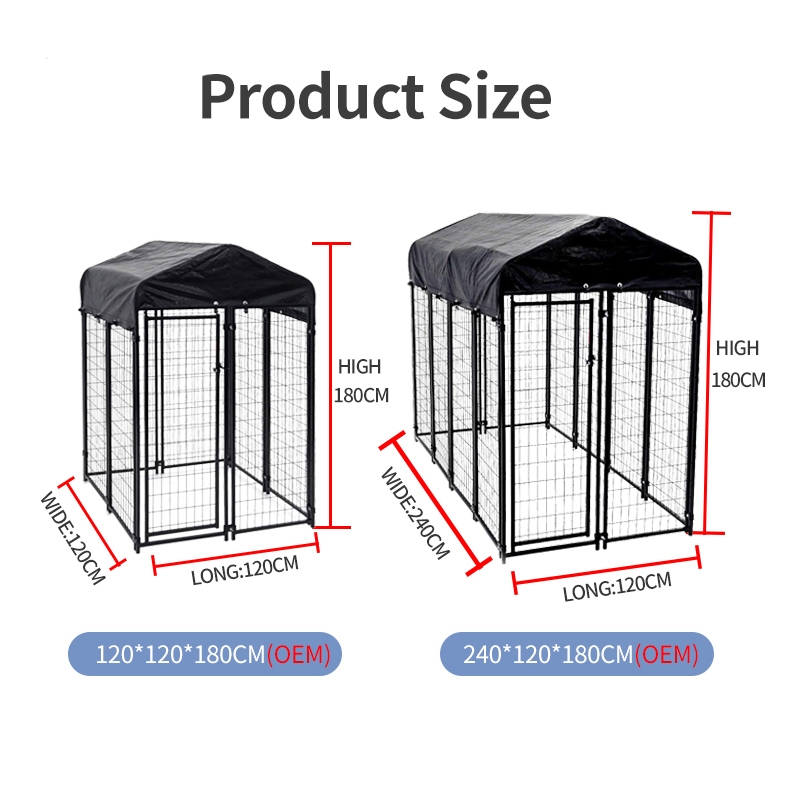 Packaging Details:Wooden pallet or In bulk with  carton .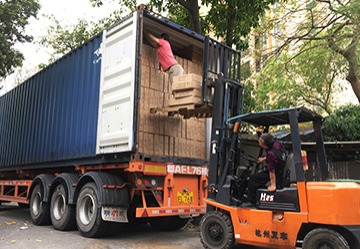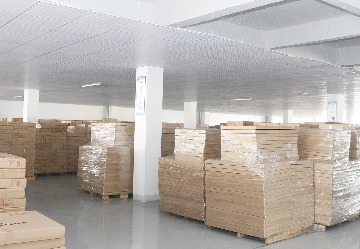 Application scenarios: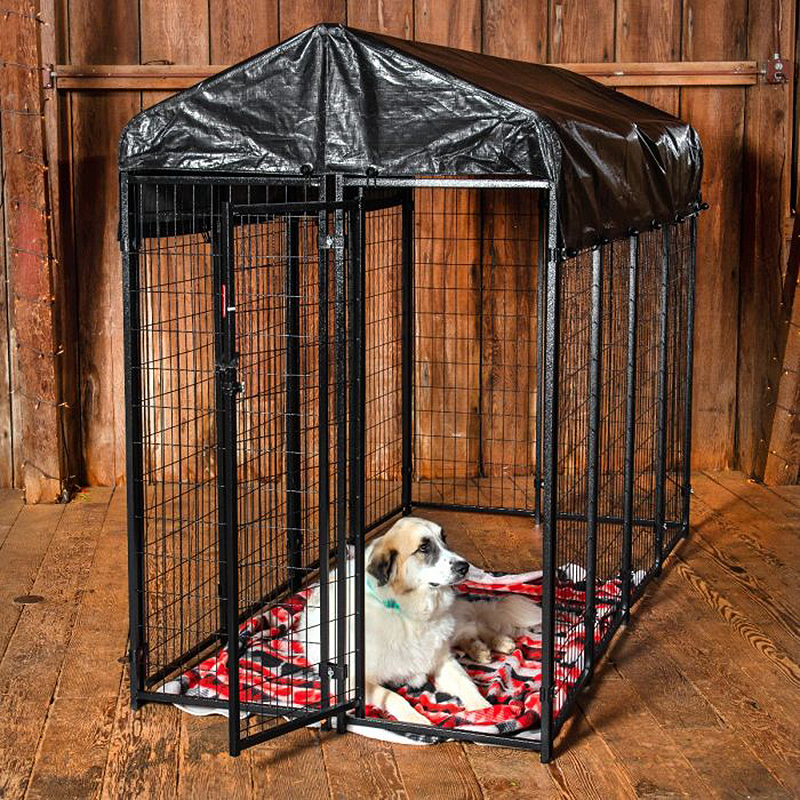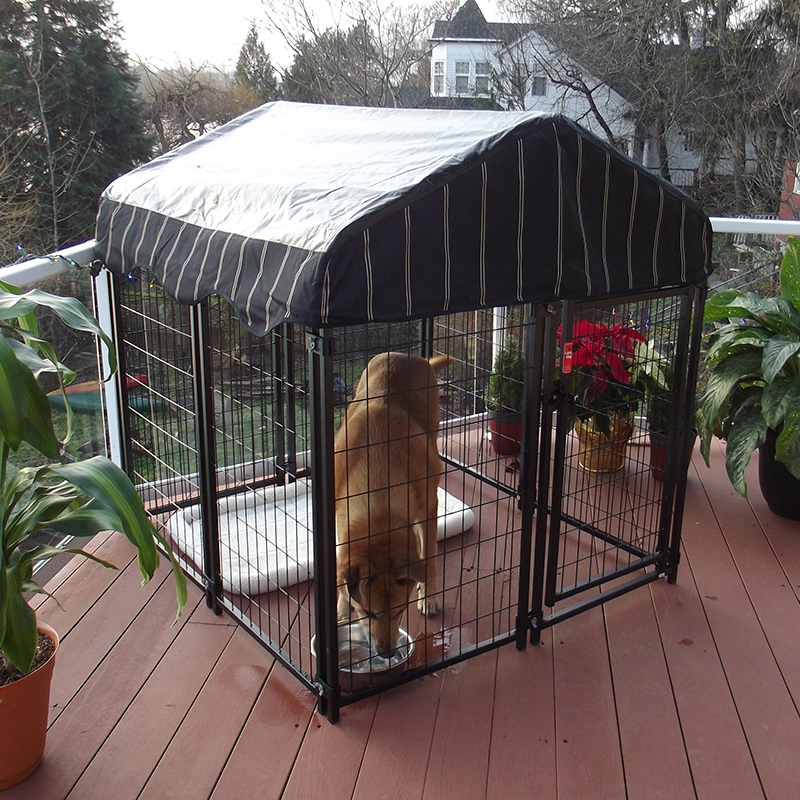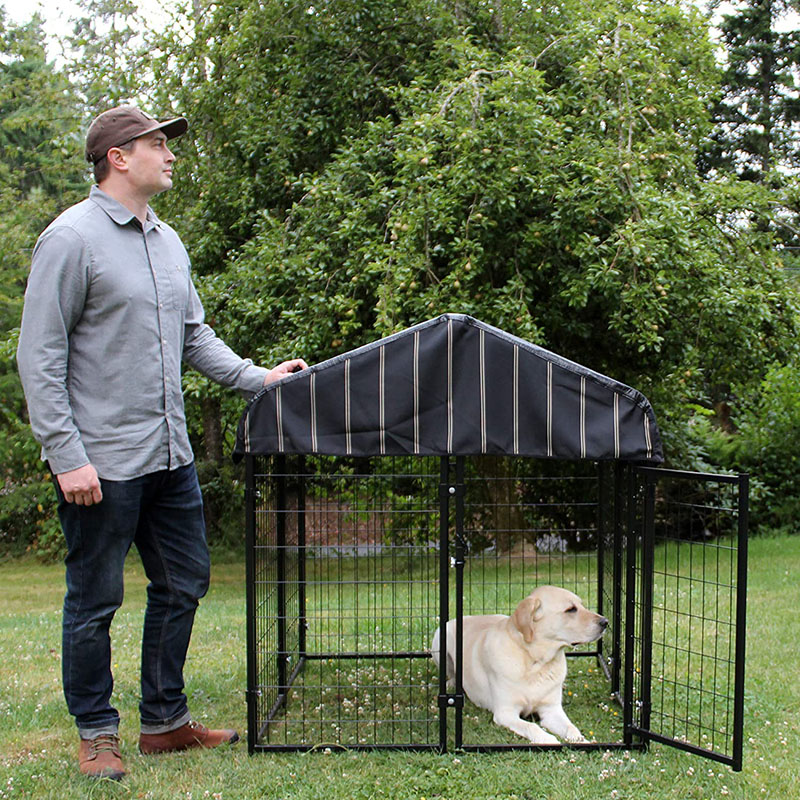 As avid advocates of canine welfare we are thrilled to announce our latest release – a welded wire kennel explicitly designed with the well being and ease of use of dogs in mind. If you're looking for an outstanding quality dog cage offering ultimate protection and durability then look no further than our latest product.
One area where we pride ourselves is safety; this integral aspect has been comprehensively tested both internally and externally to ensure optimum security provision regardless of size or breed. Crafted from robust metal grating ensures no amount of restless activity can cause damage or instability within the structure itself – giving assurance that your beloved furry friend is always safe inside. Alongside exceptional safety our dog cage offers comfort for pets. Smooth welding and seamless edges eliminate any sharp surfaces or rough edges that could pose a threat to your animals safety.
A particularly noteworthy feature for those with playful dogs who love testing their boundaries! Our dog cage offers everything you need in a top of the line kennel- safety, comfort, durability and convenience! One of its biggest perks? The incredible ease of assembly!
Thanks to pre-assembled standardized parts on our design theres no need for complex instructions or special tools- putting it together couldn't be simpler. Just use tightening clamps to connect the pieces and voila! Taking it apart again is just as easy when you need to store it or move location.
Our dog cage is perfect for outdoor use too with its heavy duty metal construction and welded wire grating- making it a standout choice for everything from backyard lounging to camping trips. Whether you want a secure place for your pet while you're away or simply want them to enjoy some fresh air outside our kennel offers an ideal solution. We understand that being a pet owner comes with responsibilities- but we're here to help make that journey as simple and stress free as possible. Our dog cage embodies our commitment to offering high quality products that deliver on safety, durability, and convenience – all in one! Peace of mind comes easy with our welded wire kennel – we've taken great care in crafting an enclosure that provides superior safety by creating a structure that is tough enough to keep even the most curious dogs safely contained.
Moreover we prioritize comfort: providing an environment with ample room and features like seamless edges ensure your furry friend can experience luxurious relaxation when enjoying their new home in one of our kennels! Our product is easy enough for anyone to set up at any location which means you can enjoy being at ease knowing your pet is well cared for wherever you go.
---
Previous:
Chicken Cage
---